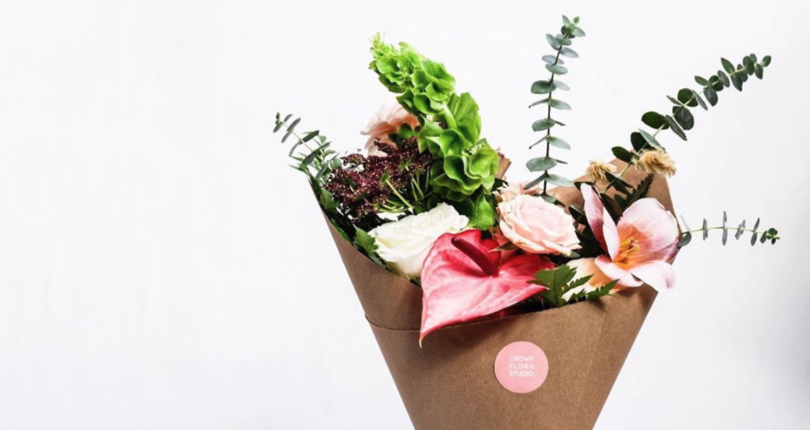 Once housed in a delightful baby pink ground floor studio just off of Queen West, Crown Flora was widely considered the crown jewel of Toronto's West End plant scene. Lush potted plants and flowers spilled out of the studio's front doors and out onto the pavement, bringing vibrance and colour to an intersection that had previously only sported a (very good) shawarma spot.
Though the infamous pink studio has closed permanently because of, well – you know, the business has managed to flourish nonetheless. Its two proprietors Adam Mallory and Davis Khounnoraj have shifted gears in order to adapt to the new normal. The two are now running a same-same but different business model. 
While shoppers no longer have the option to roam the perfectly arranged arrangements of the old studio's interior, there are new ways to get a healthy dose of plant and pretty injected into your daily lives. 
After a short hiatus, Crown Flora now offers pick up and delivery options for shoppers seeking to purchase goods from their online store. If it's not a one off plant pick up you're looking for, Crown Flora has floral subscriptions. For two different amounts based on your flower wants and needs, you can arrange to have a fresh bouquet of local Ontario flowers delivered to your door on a regular basis. The process is simple, but they've made a very handy FAQ section available on their site for any logistical questions or concerns folks may have.
Whether you're booking a time slot to pick up some green goodies or waiting for your bouquet delivery, Crown Flora is a Toronto institution that has innovated in order to survive and as Torontonians, who are we to turn down the chance to support a local business when the immediate rewards are so, so beautiful?
Check out what's available at Crown Flora's online shop and give their instagram @crownflora a follow to stay up to date with any upcoming 'Plant Drops' and service changes!